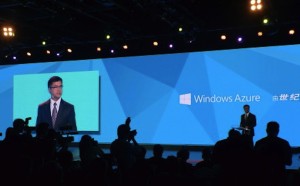 From solar energy to cloud computing, China's government doesn't hesitate in formulating national policies to encourage and support the development of the country's new industries.
Over the last couple of months, several major events in cloud computing in China showed the momentum of the "cloud" growing. With Microsoft's recently launched Windows Azure services jointly operated with China's Century Internet, both China and the U.S. see cloud computing as an area for cooperation between Chinese and American companies.
While the eyes of the world were turned towards California earlier this month for the Obama-Xi summit, Beijing saw the convening of The 5th China Cloud Computing Conference from June 5 to 7, attended by such tech giants as Microsoft, Baidu and Alibaba, among others. The theme of the conference was "Big Data and Big Bandwidth Push Forward Cloud Computing Application and Innovation." Zhang Yaqin, Microsoft vice president and chairman of the Asia-Pacific Research and Development Group, spoke at the conference on the topic "Big Data Enriches the City of Tomorrow."
The conference was, in fact, a culmination of a series of events in cloud computing.
In March, there was The 5th Cloud Computing China Congress & Cloud Computing User APAC Conference. In April, there was The 1st China International Cloud Computing Technology and Application Exhibition. On May 22, with CEO Steve Ballmer and U.S. Ambassador Gary Locke attending, Microsoft announced in Shanghai the official launch in China of its Windows Azure public cloud jointly operated with Century Internet. The next day, Locke took a delegation of 11 American IT companies to Wuxi, in Jiangsu Province, to explore opportunities of cooperation. Among the companies with him were Microsoft, Intel, Motorola, Symantec, and Adobe. But why Wuxi, and not a major hub like Beijing or Shanghai or Shenzhen?
Back in October 2010, the National Development and Reform Commission (NDRC) and Ministry of Industry and Information Technology (MIIT) designated five Chinese cities as pilot cities for cloud computing innovation and development, and Wuxi was among them. Others were Beijing, Shanghai, Shenzhen and Hangzhou. At the same time, the NDRC along with the MIIT and Ministry of Finance (MOF) earmarked $243 million for the industry and allocated the funds to a dozen projects.
China's overall development of cloud computing was best summed up at by Wu Jichuan (吴基传), president of China Cloud Computing Technology and Industry Alliance. "In recent years, China's cloud computing has made long strides of progress," he said at on June 5 at the 5th China Cloud Computing Conference.
Cloud computing "has become an important component of newly emerging and strategic industries," he continued. "Applications of cloud computing have been steadily growing. The scale of public cloud services focused on management and office software along with cloud data centers, cloud storage, cloud hosting and cloud platform has been expanding. Internet search, e-commerce, social management, location services and other Internet services are also moving towards cloud computing architecture." The steady development is leading to domestic innovation, he remarked. "A chain industry of cloud computing with cloud data centers, big bandwidth strategy, software services and intelligent terminals is in the formation."
Wu also pointed out problems existing in China's cloud computing: insufficient infrastructure support, broadband not "broad" or fast enough, limited types of service, lack of scale, and an incomplete industry chain.
In other words, there is good potential for growth. According to investment consultant Guo Shiliang, the global market for cloud computing in 2012 was worth more than $107 billion, whereas China's public cloud services market was worth only $568 million.
The same potential is also exists for cooperation between Chinese and American companies. Back in 2011, during the 22nd U.S.-China Joint Commission on Commerce and Trade, cloud computing was already on the agenda for bilateral exchanges.
Wuxi, where Locke was leading the American delegation, is not only a pilot city for cloud computing innovation, it is also home to a five-year-old IBM cloud computing center and where Intel, EMC and NewCloud have all invested in local projects. "We are very proud of the development of IBM cloud computing center here, and hope to build a China cloud computer industry center in Wuxi," Locke said. "Chinese businesses need a more mature cloud, while American companies can also find potential opportunities here." During the visit, the U.S. companies had one-on-one meetings with 40-some local IOT (Internet of Things) and cloud computing companies.
Back in Shanghai at the launch of Microsoft Azure, Locke said, "New industries such as cloud computing will benefit people of America, China and the whole world." Cloud computing will increase the computing capacity of businesses while lowering their costs, Locke said. It will allow students in remote villages to take classes from various parts of the world, doctors and patients in small towns to communicate with hospitals thousands of miles away, and artists and artisans to sell their works directly across the globe.
The American companies, Locke pointed out, were very interested in cooperating with Chinese partners, to introduce new technologies to the Chinese people, and release the full potential of cloud technology.
Locke said Microsoft has brought Azure to China at the right moment: "Cloud computing will help grow U.S.-China relations," he predicted.
Credit: [ContextChina] http://contextchina.com/2013/06/cloud-computing-will-help-expand-u-s-china-ties-gary-locke/